LACROSSE BASE (1 PIECE SQUARE OPENING)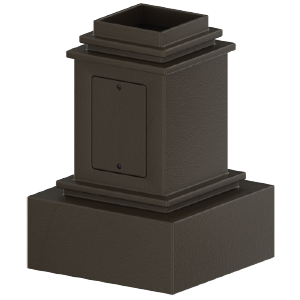 APPLICATIONS
The LAC-SQ base is ideal for courtyards, pathways, municipal, and commercial decorative light pole applications.
FEATURES/MATERIALS/STRUCTURES
Anchor bolts are fabricated from hot-rolled carbon steel bar with minimum yield strength of 55,000 PSI. Bolts are fully galvanized and conform to ASTM-F1554 A55. Each bolt is furnished with two hex nuts and two flat washers.